Jardin du Palais Royal, Paris
2018-10-13: After a quick photo stop at the Louvre Museum - yea we were on a budget ok, we couldn't be bothered to go inside. A stroll in the park seemed fitting right before sundown.
2018-10-13: While enjoying yet another coffee, we got to meet Satoshi Nufa. He posed for this glorious snap. This coffee shop / store is right across the street from the Square du Temple - Elie-Wiesel City Park. Really nice scenery and patio spots.
2018-10-12: A tiny little café near the 11th arrondissement - well probably not but that's the only one that I can remember. A café and a cookie never tasted so good.
2018-10-12: One of the best Cambodian meals i've ever had. Well the only Cambodian meal i've ever had… Le Petit Cambodge sits in the Canal Saint Martin area of the 10th arrondissement. Unfortunately after the fact, we learned that this was one of the targets of the 2016 terrorist attacks.
Merci, Le Marais District, Paris, France
2018-10-11: One of the first stops in Paris had some of the best collections you'll ever find in one shop. Merci is a beautiful store. Found some well priced Veja sneakers and made one of my only purchases of the entire trip (I go for the experiences not the goods ;) )
2018-10-10: First authentic parisian stop of the trip. A little aperol spritz and a french beer to start the adventure.
The Pilgrm, Paddington, London, UK
2018-10-10: The only non-airbnb stay of the entire trip. We wanted to experience The Pilgrm after seeing so many good things on Instagram and other sites. Not only was it affordable, well located, and quaint as hell, it had so many other perks that came along with it. A courtesy voucher for the café, more Monocle mags that one could read, and complimentary stationary was worth over half of the stay. And the bed was a dream. zzz.
Granger & Co., Westbourne Green, UK
2018-10-09: This was one on the MUST list. Granger & Co. in the Westbourne Green district of London. I had the black lentil daal with a poached egg and a much deserved coffee. We sat at the bar and was a great first meal in London.
2018-10-09: I stumbled off the airplane from YVR to LGW after flying (and layover-ing) for 24 hours… luckily I had a tour guide who had already acclimatized to UK time. We strolled through the Notting Hill district after walking along the North Side of Hyde Park.
2018-08-19: I really asked a lot from my friends, family, and loved ones during the august birthday week. They really delivered. I felt so much love, attention, and peace hanging out, going for coffees, dinners, drinks, and bike rides. Thank you, thank you, thank you. <3
The Alley Between Blood Alley and Water
2018-08-18: A nice stroll with the best couple that I know - my brother Mackenzie and his beautiful girlfriend, Lauren. Thank you both for the amazing visit.
2018-08-18: Continuing the birthday week extravaganza, we took a stroll down Robson Street and snapped this shot in an alleyway with a green wall. Mackenzie didn't know what to think… neither did I. But hey, here's a photo.
2018-08-18: A very pensive Branton ponders over what record he will buy later in the day. A hard decision, but a very important one that was figured out throughout the rest of the day.
George C. Reifel Migratory Bird Sanctuary (Part II)
2018-08-17: A little visit from mum and Hailey for my birthday week. A good walk through the bird sanctuary on a hot, blue skyed, August day.
2018-07-25: A little bit of flash, a little bit of babe turns into a good shoot.
Kings Mill Park, North Vancouver
2018-07-01: We came on Canada Day to this secret little dog park on the North Shore of Vancouver. We left because of the rain… I know kind of wimpy - but we stayed dry and still had about an hour of Brassneck Sours and dog cuddles.
2018-06-03: A little dog walk with Matchstick coffee close to Fraser and Kingsway in the South Main neighbourhood of Vancouver. Lots of dogs, lots of ball fetching, lots of fun.
2018-06-18: Raspberry Changeling's to-go, taken down to Sunset Beach, Vancouver, BC. Set up with Nicholas, a blanket, a bosé, and spf 30 (50 for the nose.) Daniella stopped by early, and a bunch more friends stopped by. Early departures from the few with Dad's in the city for Fathers Day. The first real feeling of that summer heat.
2018-05-28: Living across from the beach has its perks. Like steeping a tea and walking out with your mug in hand. Trying a new thing where I don't turn on any lights after the sun goes down... It's kind of like camping, but you're in your own home and comfortable.
2018-05-28: Almond croissants at one of my favourite new spots, La Forét, in Burnaby, BC. Off course for where I usually travel, but worth the trip! Open space, delicious treats, and great company.
2018-05-13: What a great end to a great trip. My friends (and cousins) Yiying Lu and Guile Gaspar made this work trip an absolute delight. Sharing Yiying's great poem: "If you read, you're a reader. If you listen, you're a listener. If you fight, you're a fighter. If you flow, you're a flower."
2018-05-13: Fresh out the oven, melt in your hand, small batch cookies. The only cookie shop with a line cam (I'm pretty sure...) The cookie in my hand is the chocolate chip walnut.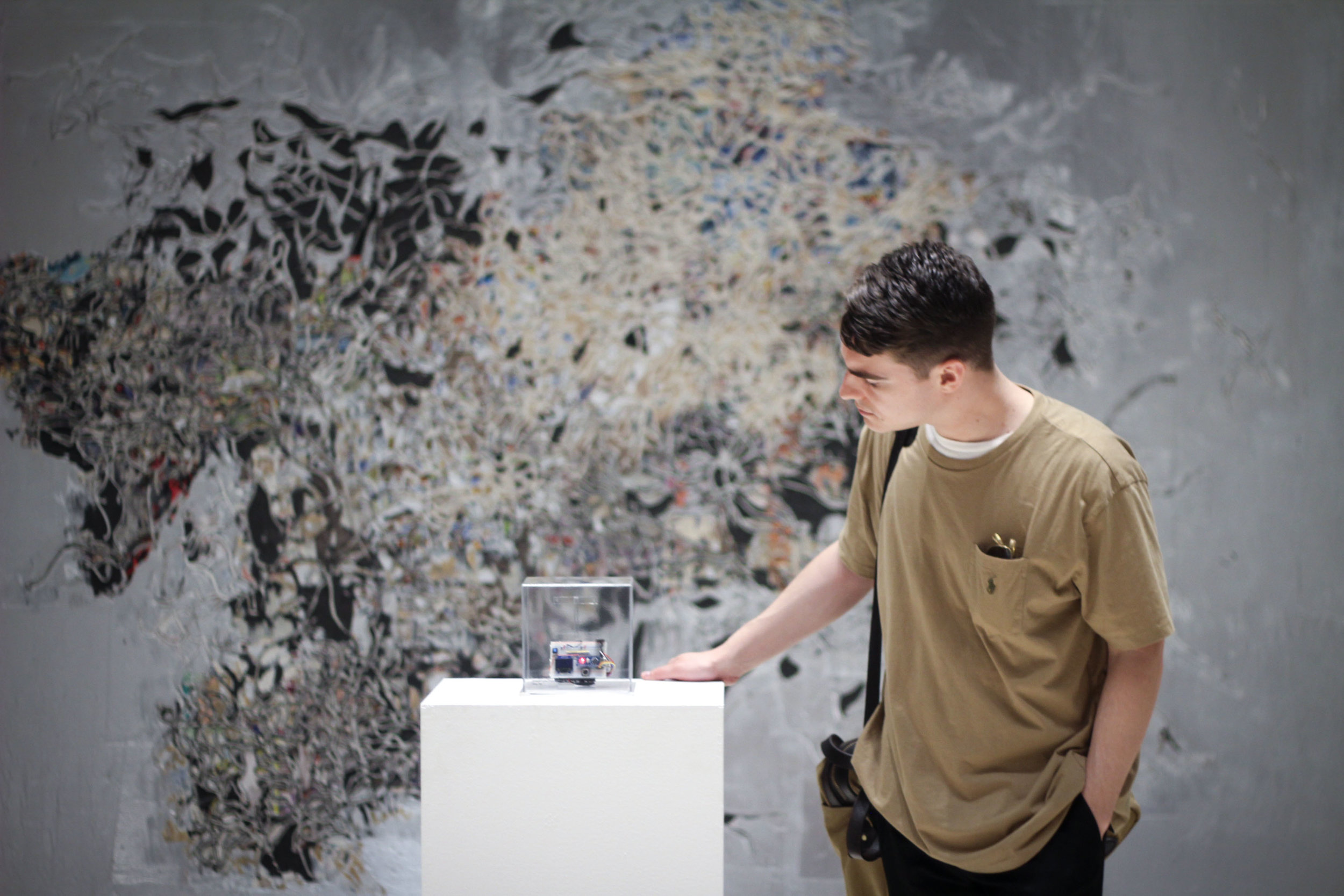 2018-05-11: Had the absolute pleasure of showing our piece that was donated to charity at Christie's Auction House in NYC. Brook Hazelton posed with us for a pic and we chatted about emerging technologies and their integration with art.
2018-04-29 (2/2): Took these two up to Deep Cove and the Cleveland Dam. We stopped in at Honey's, ate way too many donuts, and made the most of a gray day.
2018-04-29 (1/2): Morning drive out to Dunbar aimed at Bigsby the Bakehouse turned into a Sweet Somethings lounge. This is my best attempt at a good photo. Always looked stunned, but oh well.
2018-04-28: Strolls in a light rain through the West End. Destination // Greenhorn Cafe of course. Addicted to those poached eggs and well poured americanos.
2018-04-27: Friday night umaluma session. Double scoop of vegan gelato // drunken cherry + mahalo macadamia chocolate. Vloging, blogging, and whatnot. People didn't mind.
2018-04-22: Finished some extra work on Saturday, so it was nice to enjoy a full afternoon in the sun on Sunday. A closed Kranky Cafe turned into a sun facing Matchstick patio lounge. Took some photos, chatted about life, and stopped into Harlow Skin Co. I bought a fir tree / cedar wood candle that smells as good as it sounds. Finished the evening off with some pizza on the beach. Yes I think spring is here to stay.
2018-03-29: A quick weekend walk over to gastown ended up being a long chat with Branton over a cup of coffee. I was not mad about this.
Takashi Murakami: The Octopus Eats Its Own Leg
2018-02-25: Took a photo at the Takashi Murakami: The Octopus Eats Its Own Leg exhibit at the Vancouver Art Gallery.
2018-02-20: Stopped by the Monocle Toronto Bureau headquarters to visit my good friend and Bureau Chief, Tomas Lewis. I forced Tomas to take a photo and I promised I'd make him look good - even though I didn't modify this photo, I think I held up my end of the promise. I left with the strong desire to spend too much money on Monocle x Comme Des Garçons Scent 1: Hinoki.
2018-02-18: My brother Mackenzie and I had the pleasure of visiting Neo Coffee Bar on Frederick and King St. in Toronto, ON, Canada. I was visiting the most recent addition to our family, our new niece, Olivia Gonda.
2018-02-10: Sometimes it's nice to spend way too much money and way too much time on sushi. And at any time it's such a pleasure to chat photography, life, and everything else with my uncle, Lee Bacchus.
2018-02-09: No profound copy required... A simple day with a jaunt up Main St. to have an americano at Liberty Cafe in Vancouver, BC.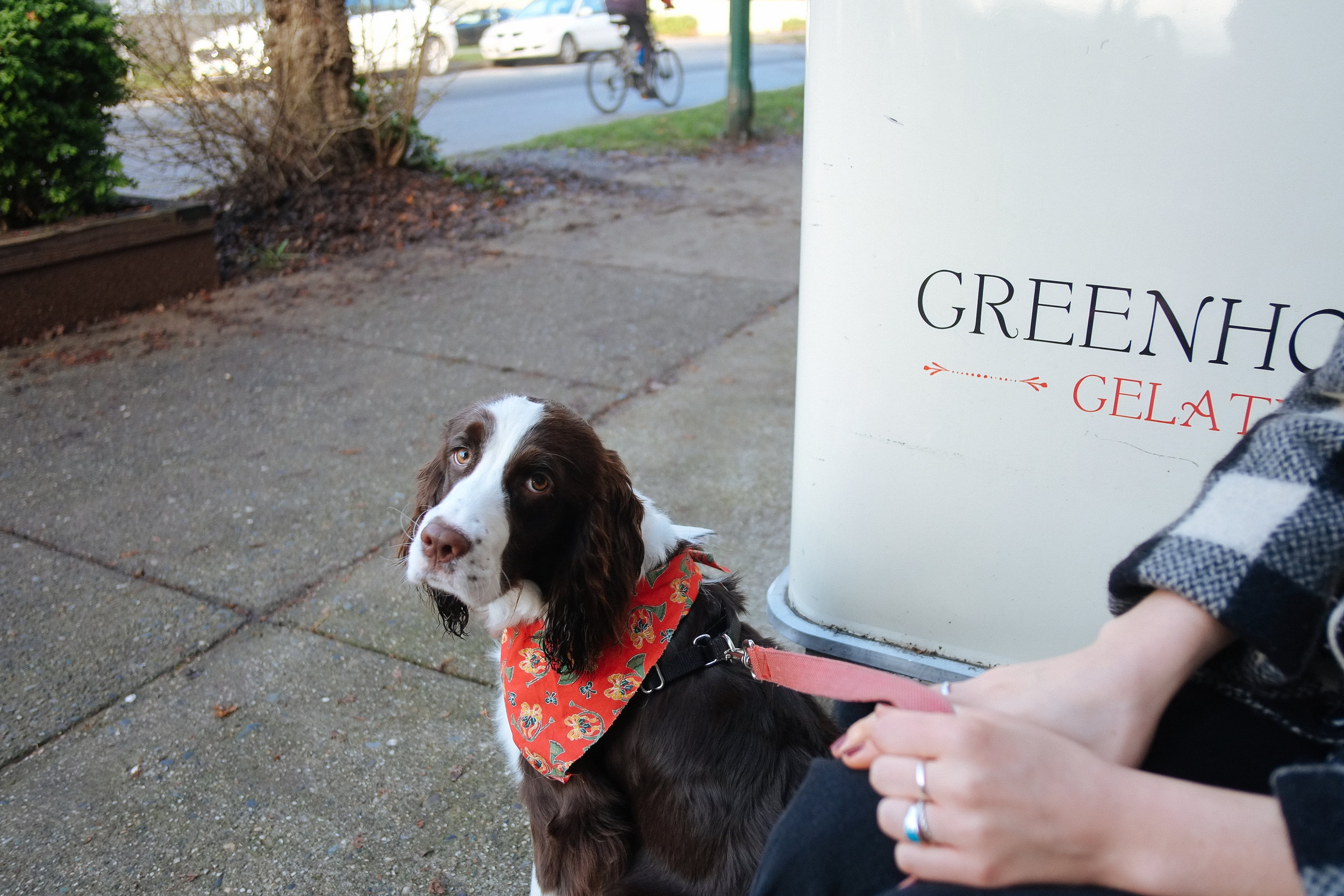 2017-12-09: Chats, coffee, and a pup. Greenhorn is my favourite spot in the West End and the best spot to hang outside with a coffee (even in December.)
George C. Reifel Migratory Bird Sanctuary
2017-04-14: There is nothing my sister Hailey loves doing more than "feeding the birds." The bird sanctuary in Delta, BC, is one of the most peaceful places to spend almost an entire day.
2017-04-14: A regular spot necessary to provide enough fuel to walk the entire George C. Reifel Migratory Bird Sanctuary... twice.
2017-04-11: Fellow Fuji X-Series photographer and good friend Andrew Midwinter is always up for getting together to take photos. Even if it means a one hour commute to get to Sunset Beach, Vancouver.
2017-??-??: The start of a photo-series that has no purpose other than documenting everyday life.